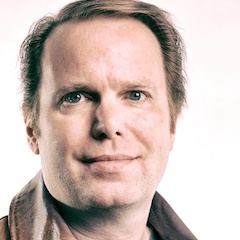 Hello. I am Alan Keahey and Holistic Sofa is my platform for sharing discoveries and viewpoints about data visualization and related fields.  I have a Ph.D. in Computer Science with a specialization in data visualization, and more than 15 years of work experience leading state of the art visualization projects.
My main gig is VP of Visual Data Science at Conversant, a $2.5bn global digital marketing company generating daily petabytes of data related to online/offline economies.  Fascinating stuff!  I am also an Adjunct Professor at Northwestern University where I design and deliver the Data Visualization course for the Masters of Science in Analytics program.  In my previous gig as a Senior Data Visualization Scientist at IBM Watson, I spearheaded the visualization and front end design and development for the IBM Watson for Cancer Genomics initiative.  My visualizations for that project were prominently featured in a "60 Minutes" story.
My experience crosses a wide range of sources including: IBM Watson, National Labs, a Lucent Bell Labs spinoff, my own R&D contract and consulting companies.  I have applied my expertise across a broad array of visualization categories including information, genomics, networks (communications, financial and social), fraud and intelligence analysis and scientific data.  My roles in these projects cover the full project lifecycle including initial funding procurement, team management, technical design, programming, project management and administration.
I have extensive academic credentials with many papers published and chair positions held in international conferences.  I also have a great deal of experience in industry running a company to create innovative yet practical products for demanding customers, and understand fully the pressures to produce value with superior results on time and within budget.
I currently have only limited availability for consulting and other jobs.  However I would be happy to have an initial discussion via phone or email to explore how my skills and experience might benefit your organization.  Please contact me via this form to get the discussion started.
[contact-form-7 id="356″ title="Contact form 1″]